Nikon spotting scopes are in a price range of the middle and upper segment. The Nikon company started developing top products as early as 1917. Since Nikon is rather known from the field of photography, it might surprise one or the other to also find qualitatively impeccable spotting scopes from the house of Nikon.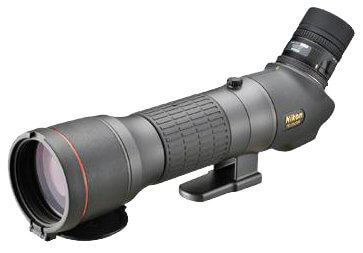 Due to the abundant experience Nikon has in producing SLR cameras, it is little surprise that Nikon scopes are great for digiscoping. There are devices that are priced in a quite affordable range of about 500,00 £ and at the same time provide great results in digital photography.
Price ranges of Nikon spotting scopes
In terms of price, Nikon spotting scopes vary between approximately 200.00 £ and 2,000.00 £. The lens diameter varies depending on the device between 50 mm and 85 mm. The weight of Nikon spotting scopes also varies between approx. 1,000 grams and 2,000 grams.
Nikon spotting scopes are suitable for various observation situations in nature as well as for sports or hunting.
The Nikon Fieldscope EDG 85 VR
With the Nikon Fieldscope EDG VR, listed since 2012, Nikon produced an excellent spotting scope for the purpose of nature observation. With 85 mm and a focusing from five meters, the device has a more than solid basic equipment. For outdoor use, it is perfectly suitable due to its waterproofness.
The slightly smaller version of the Nikon Fieldscope is the Fieldscope ED50. As the product name suggests, it is a spotting scope with a lens diameter of 50 mm. The weight of the smaller version is 470 grams, which is significantly less than the weight of the 85 version (2,400 grams).
Nikon accessories
Like other large manufacturers of spotting scopes, Nikon not only produces the spotting scope itself. Both eyepieces and other accessories, especially additional equipment of digiscoping from Nikon, are available on the market. These include, for example, photo adapters or converters.
Nature watchers who want to use a spotting scope not only for observation but also for documenting their sightings should take a closer look at Nikon's options.
The following promotional video demonstrates the power of Nikon spotting scopes, focusing primarily on the world of birding:
Price ranges of Nikon spotting scopes
The following list shows Nikon scopes, available in the online shop of the specialized dealer "Optics-Pro":
The following list shows the devices and prices available on Amazon:
The links on this page are part of the Amazon and Optics Pro partner program. Prices are subject to the usual market fluctuations.