Whether you are a hunter, birdwatcher or sport shooter, these criteria of spotting scope tests should be considered by every buyer before making a purchase. Make sure you choose the right spotting scope for your specific use case.
The observed object must meet your expectations as a buyer, even from a great distance. Spotting scope tests are based on different criteria, which are discussed in more detail below.
Criteria for the spotting scope test
When spotting scopes are tested, different test categories come into play. For example, the body of a spotting scope can vary: There are angled bodies (oblique-viewing) and straight bodies (straight-viewing), both of which are preferred under certain observing circumstances.
Spotting scopes with an angled body are particularly suitable for use over flat surfaces.
Spotting scopes with a straight body are mainly used from an elevated position – for example, from a mountain down into the valley or from an elevated position down into a forest clearing.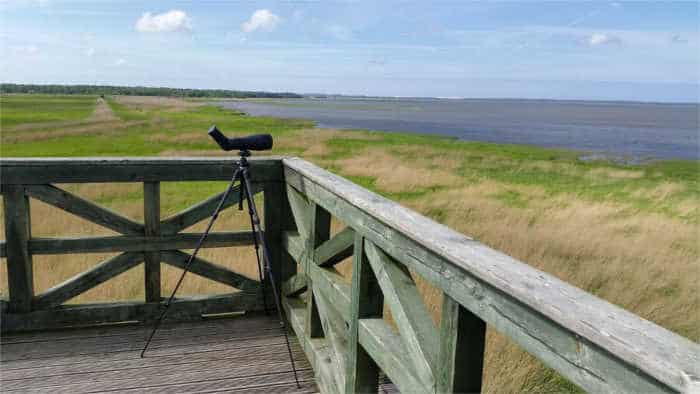 Lenses in spotting scope tests
The objective lenses of spotting scopes are also regularly tested. The spotting scope lens should always be made of a high-performance glass. It is not the size of the lens that matters, but the quality. When faced with a choice, go for a high-quality lens rather than the larger one.
Nevertheless, lens size also plays a role. The rule is obvious: larger lenses allow for greater performance than smaller lenses. So ideally, go for a high quality and large lens.
The magnification in the test
When testing spotting scopes, magnification power also plays a role.
Spotting scopes are often used when binoculars reach their limits. A spotting scope should provide magnification of 25x to 40x at the least. At these long distances, the spotting scope must also provide clean imaging.
Nevertheless, the greater the magnification, the more the quality of the image suffers. The laws of optics dictate this. The highest magnification, which many manufacturers do not exceed, is 60x magnification. However, some manufacturers also offer devices with 75x magnification (e.g. Bresser).
Atmospheric conditions such as fog, heat, wind and others usually prevent flawless images from being delivered above 60x magnification. Even with the best spotting scope, you can't see against e.g. heat flicker (rising air layers of different temperature).
Eye relief
Spotting scope tests also check the distance of the eye from the eyepiece.
Observations become more difficult if the field of view of a spotting scope is lost during small eye movements.
Especially people who wear glasses must be able to see a clear image through the device even with some distance to the eyepiece. People wearing glasses are recommended to consider at least 14mm eye distance to the eyepiece.
Eyepieces and spotting scopes
When buying a spotting scope, be aware that eyepieces are not always included in the price. And if the eyepiece is included in the price, be aware that it is possible that the eyepiece cannot be changed.
High end spotting scopes usually have detachable eyepieces. In addition, the eyepieces are most likely not included in the price of high-end devices. Although the buyer must spend additional money to purchase a suitable eyepiece for the spotting scope, he has at the same time the possibility to choose between various offers of the providers – for example between zoom eyepieces or fixed magnifications.
Test results show: High-quality eyepieces make it possible to quickly focus on the observed object. This makes observation comfortable and durable at the same time.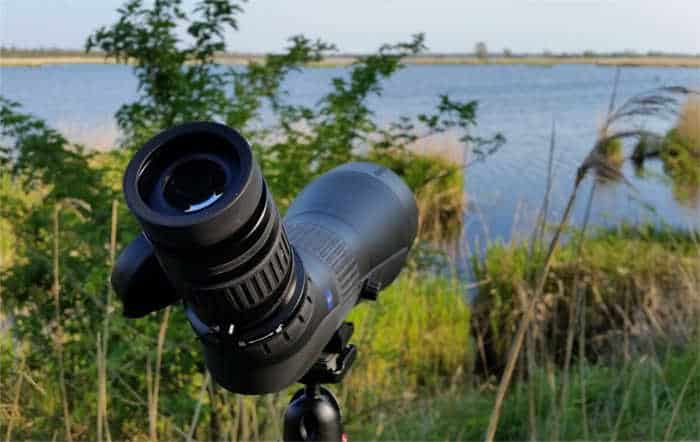 Criterion Close focus limit
The minimum possible distance to observation is also included as a criterion when testing spotting scopes.
With most spotting scopes, the closest focusing distance is less than ten meters. At short distances, numerous spectacular details can become visible if the spotting scope is optimally processed.
Waterproofing
Regularly, when testing spotting scopes, the susceptibility of the devices to splash water (moisture) and dirt is examined. While these criteria are not important for every user, the weather can vary in every application situation. Special seals keep moisture, dust and dirt outside the spotting scope and guarantee the long service life as well as a permanently high imaging performance.
New test criterion: camera adapter
The trend towards digiscoping has led to the fact that most spotting scopes today can have a camera attached.
When buying a spotting scope, pay attention to which camera models your spotting scope can be used with – especially if you have already invested in expensive camera equipment.
If you want to use your spotting scope for digiscoping, please check whether special adapters are necessary and available. Because only with the right equipment you can produce razor-sharp photographs through the spotting scope.
Spotting scope test: criteria at a glance
When looking for test results of spotting scopes, compare the following criteria in particular:
Lens diameter
Focal length spotting scope
Filter thread
Resolution
Contrast
Image sharpness
Distortion
Seefeld greetings
Fixed magnification
Sharpness extension
Color fringes
Inner reflexes
Colour rendering
Brightness
Focus
Weight and balance
Close-up settings
Price
Results of spotting scope test
In the middle price category with prices between approx. 500,00 £ and 800,00 £ and a good price-performance ratio, you can find for example the KowaTSN 601 for approx. 730 £ or the Kite SP 82 for approx. 600,00 £.
Among the best spotting scopes in tests are the premium products from Leica, Swarovski & Kowa. These include the Swarovski ATX 25-60×85 for about 2,500.00 £ the KowaTSN-883 for about 1,750 £ or the Leica APO-Televid 82 for about 2,300 £.
This evaluation of test reports on spotting scopes, which various buyers have chosen, provides information on the most popular and at the same time best rated spotting scopes on the market.
Price overview spotting scopes
The following two price overviews are updated at regular intervals and offer orientation among the top manufacturers of spotting scopes on the European market.
*All of the links provided are affiliate links within the Amazon or Optics Pro affiliate program. The indicated prices are subject to fluctuations of the market.