Vanguard spotting scopes are among the most famous optical observation devices worldwide. The spotting scope "Endeavor" is one of the top products from Vanguard. While Vanguard is rather at the back of the pack on the European market, spotting scopes of the brand belong to every specialist shop in Great Britain and the USA. Besides spotting scopes, Vanguard also produces matching tripods, bags, and binoculars.
Unlike highly specialized suppliers such as Kowa or Swarovski, Vanguard spotting scopes form part of the mid-range price and quality level on the spotting scope market. Nevertheless, the optical devices from the house of Vanguard form an attractive price-performance ratio for users for whom the premium segment of the spotting scope world seems too outlandish. It should also be mentioned that the "Endeavor" series from Vanguard is the most advanced equipment ever produced by Vanguard.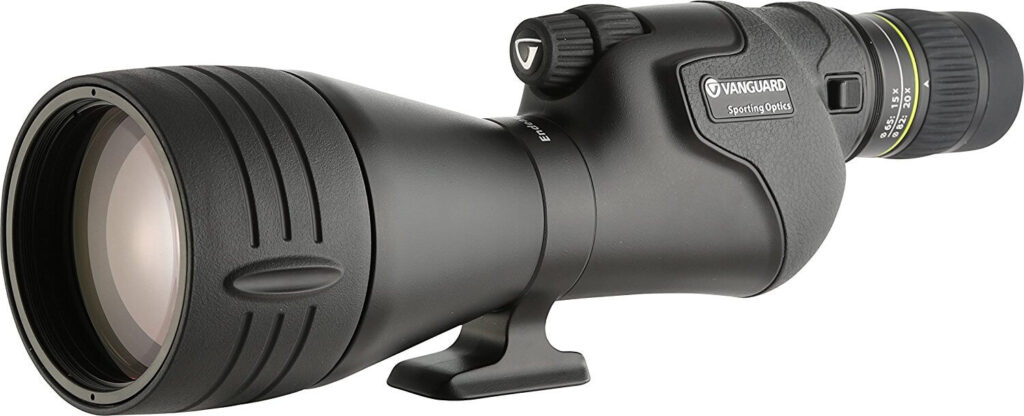 Vanguard spotting scopes – suitable for every use
Similar to the portfolio of spotting scopes from other manufacturers, Vanguard spotting scopes are suitable for hunting as well as for nature or bird watching or for astrologically interested users. Numerous outdoor enthusiasts like to use products from Vanguard.
The model "Vanguard Endeavor" of the type "82 A" can be used with a weight of only 420 g excellent for use on trips. With a 20x magnification and a subject diameter of 82 mm, the device performs about twice the magnification of binoculars, which often have reached their maximum limit at ten times magnification. The model Vanguard Endeavor is available in the mentioned version for about £ 500,00 in the trade.
Also the factor of magnification power, which is important in spotting scope tests, can be further increased from 20x magnification in the Vanguard brand segment: For example, the Vanguard Endeavor HD 82A allows up to 60x magnification power and is also available for about £ 500.00. However, the weight of this device is significantly higher than the above-mentioned model without "HD".
Characteristics of Vanguard "Endeavor" series spotting scopes
Several features are characteristic of Endeavor devices from Vanguard. These include:
Lenses with low dispersion (dispersion of the color rendition), which reproduce colors excellently
Multicoated lenses
Lens diameter of >80
Eyepieces with 20x to 80x magnification
Easy focus adjustment via dials
Extendable eyecup and rubber coating
Integrated sun visor
Raincoat for protection from moisture
The following video demonstrates the Vanguard Endeavor HD82A spotting scope including its features and gives information about application and usability:
By the way: Contrary to what the name suggests, Vanguard is not a company based in the English-speaking world. The company originally comes from Chinese Guangdong, but sells spotting scopes and other products through a global distribution network.
Vanguard spotting scopes in price comparison
The following list shows Vanguard scopes in price comparison at Optik-Pro's shop:
Links to Amazon and Optics-Pro are links within the framework of the respective partner programs. The stated prices may be subject to market fluctuations.