Most Swarovski spotting scopes are produced for the absolute premium segment. In the price category below 1.000,00 £ a Swarovski spotting scope can hardly be found.
The Swarovski brand stands for the absolute optimum in quality for both binoculars and spotting scopes. This applies to the mechanical workmanship as well as to the performance of optics.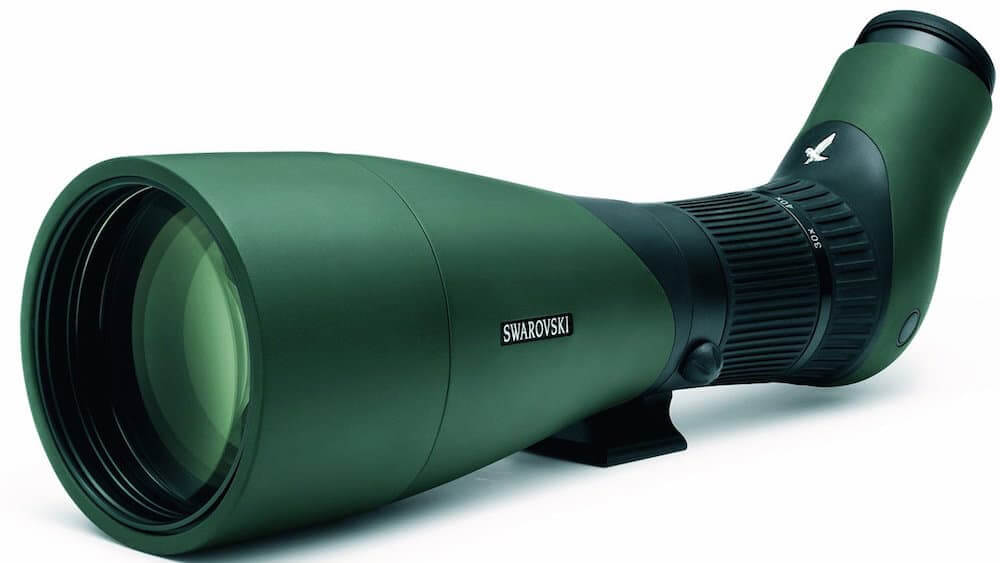 Understanding the Swarovski Product Series
Swarovski likes to abbreviate its spotting scope series with three letters. This may seem confusing at first. To help you find your way around quickly, we will briefly explain the meaning of the abbreviations used.
There are a total of 8 product categories for Swarovski spotting scopes:
ATS: Mono-ocular (classic spotting scope) with angled view
ATX: mono-ocular (classic spotting scope) with angled view, modularly combinable with exchangeable objective modules
BTX: Bi-ocular (Swarovski development) with angled view, comfortable long-term observation "like through binoculars"
CTC: Mono eyepiece, spotting scope incl. eyepiece
CTS: Mono eyepiece, spotting scope with interchangeable eyepiece
STR: Mono-ocular, spotting scope with line scan function
STS: Mono eyepiece, spotting scope with straight view
STX: Mono-ocular, spotting scope with straight viewing and interchangeable objective modules
Each product category is home to different Swarovski product line. Did you notice something? If one of the abbreviations ends on "X", it means "modularity". You can change lens modules on these devices and adapt them to your observation situation.
For all other categories, you are bound to the design of your spotting scope, so you have less flexibility.
The Swarovski spotting scope ATX 30-70×95
The Swarovski spotting scope ATX is a superlative spotting scope with angled view. The device is almost a "must-have" for every halfway ambitious hobby ornithologist. This popular spotting scope combines high resolution of minute details with light weight and a modular design that can be built upon:
The front lens has a fast diameter of 95mm
The weight is about 2 KG
The magnification power is between 30x and 70x magnification
The ATX 30-75×95 uses lenses that are called "field flutter lenses". With this technology, known as "Swarovision", Swarovski succeeded in eliminating lens blur that exists at the edge of the image with other manufacturers.
There is also a wide range of accessories for the Swarovski ATX 30-70×95. With the adapter for digiscoping, you can capture your nature observations.
The Swarovski ATX 30-70 x 115
For years, the ATX 30-70 x 95 was the ultimate. Now Swarovski has surpassed itself once again. With the Swarovski ATX 30-70 x 115, it has succeeded in pushing the boundaries of optics.
This spotting scope is the only one with a lens diameter of 115 mm. Quality and dimension of the ATX 30-70 x 115 let Swarovski shine. The performance of this spotting scope pays off especially in low light moments. Even the smallest details will not escape, even in twilight. Observed objects at distance appear close enough to touch.
Caution is advised, as Swarovski surprises again and again. Nevertheless, we dare to say: A spotting scope with even more performance is currently not imaginable.
The special quality of Swarovski spotting scopes
Swarovski spotting scopes are characterized by absolute top technology. The manufacturer uses so-called coating technologies, which were derived from the name of the company: Swarotop, Swarobright or Swarodur together form the overall technology known as "Swarovision".
There is no denying that these developments provide the highest level of good quality in terms of various criteria: bright images, excellent contrasts, great colour reproduction and precise sharpness.
Swarovski Optik KG has its headquarters in Absam, Tyrol. Swarovski is the world market leader in all areas of long-range optical equipment production. In addition to spotting scopes, this also includes telescopes, binoculars, rangefinders, and residual light amplifiers.
Professionals of birdwatching with high demands on the image of nature observation should take Swarovski in the closer selection despite the upper price segment. But beware: There is a risk that after looking through a Swarovski spotting scope no other manufacturer comes into question.
Which Swarovski spotting scopes can be combined with each other?
Look for the "X". Because all Swarovski scopes, the ATX and STX line can be combined with each other. With the modular ATX or STX telescopes, you can change the optical performance by selecting the objective module.
Use the eyepiece modules "straight view" or "angled view" – and the BTX eyepiece module (bi-eyepiece) – with one of the four available objective modules. You have the choice between objectives with the following diameters:
The advantages of Swarovski's modular perspective are obvious: you can adapt the device to your requirements:
A light and comfortable travel option for a birding trip to – let's say South Africa – could be the eyepiece module with angled view in combination with the 65 mm objective module.
For long-term observations in North Wales, the comfort of the BTX binocular with the power of the 115 mm objective plays into your hands. Speaking of travelling: You will quickly notice that the modular design also has a positive effect on the space required in your luggage. Swarovski "X" series spotting scopes can be "disassembled" to a small pack size.
Cheap Exception from Swarovski
The only spotting scope in the price category below £ 1,000.00 is the Swarovski Optik ATS 65 HD. It allows focusing from three meters and has a lens diameter of 65 mm. With a weight of approx. 1,100 grams, the spotting scope, which has been listed since April 2008, is also well suited for bird watching including short walks.
Competitors in the premium segment
Some spotting scopes from Zeiss can keep up with the quality of Swarovski. Optolyth also offers devices with excellent performance. The same applies to the manufacturer Leica. Nevertheless, it should be emphasized once again: Swarovski spotting scopes form the absolute high-end segment on the market.
The following video informs about the possibilities of the modular use of Swarovski spotting scopes:
Price ranges of Swarovski spotting scopes at a glance
In this table you will find different versions of Swarovski spotting scopes and the current prices, based on the information from optik-pro.de. The price range goes from about 1.160,00 £ up to about 5.500,00 £:
*All given links to Optics-Pro or Amazon are links within the Optics-Pro or Amazon affiliate program. The prices may be subject to market fluctuations and are not always up to date.
More information on Swarovski Perspectives
Spotting scopes from Swarovski usually allow fast and fine focusing
The correct focus can be quickly adjusted to the observed object.
For the high optical performance of a Swarovski spotting scope, the use of a tripod is recommended in any case.
Even contact with water cannot harm a high-quality Swarovski spotting scope. The spotting scope is regularly installed extremely robust.