Bresser spotting scopes are offered in the lower to middle price category. The cheapest versions cost around the 50.00 £. High-priced devices cost between 500 and 1.000 pounds.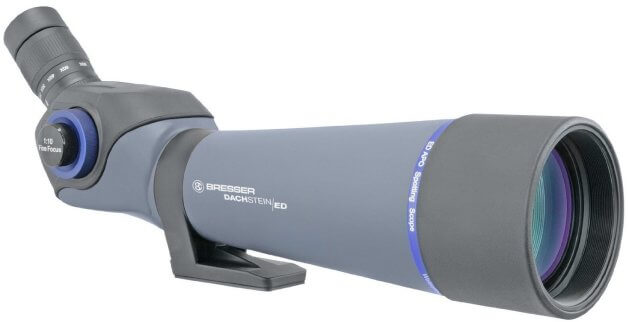 Bresser spotting scopes for hunting
The spotting scopes of the manufacturer Bresser are often smaller versions, which are less used in the field of bird watching. Instead, hunters appreciate Bresser-scopes for targeting game while hunting. Especially devices such as the model titled Yukon Scout 20 x 50 (telescope) is particularly suitable for on the go due to its light weight of 450 grams. Since it is used without a tripod and has "only" 20x magnification, the device is rather unsuitable for bird watching.
Bresser spotting scope for bird watching
Bresser also offers spotting scopes that are explicitly advertised for use by birdwatchers. The Bresser Spotty 20 – 60 x 60 is one of the most affordable models for amateur ornithologists in the entry-level range. Because also this device has only a 20-fold magnification. The viewing angle is 45° and the objective lens diameter is 60 mm. It is doubtful whether this device is sufficient for demanding users.
Bresser roof tile 20 to 60 x 80 mm
A product of the middle price category from Bresser is the model Bresser Dachstein 20 – 60 x 80 mm. This spotting scope has been listed since March 2009. It is suitable for nature observation in the not too distant range (e.g. bird watching in the garden), magnifies up to 20x and has a diameter of 80 mm. However, with a total weight of 4,200 grams, it is a rather heavy model. Nature watchers should take into account that it may be useful to save weight if longer walks are planned.
Several years ago, Bresser spotting scopes were also offered by retail chains such as LIDL. Especially for beginners or occasional users, a Bresser spotting scope can be a suitable choice. Those who want to make their first experiences with spotting scopes without placing the highest demands on image quality and operation should take a closer look at the product range of Bresser spotting scopes.
You can find a Bresser spotting scope in test at the use of sport shooters here:
Bresser spotting scopes – price overview