Smartphone adapters for spotting scopes allow you to take photos with your phone through the spotting scope.
Spotting scopes magnify observations so much that hands-free photography with a smartphone does not allow sharp images. Ambitious users therefore like to use a smartphone adapter.
Which adapters are available and how to find the right adapter for your smartphone and spotting scope, you can find out here.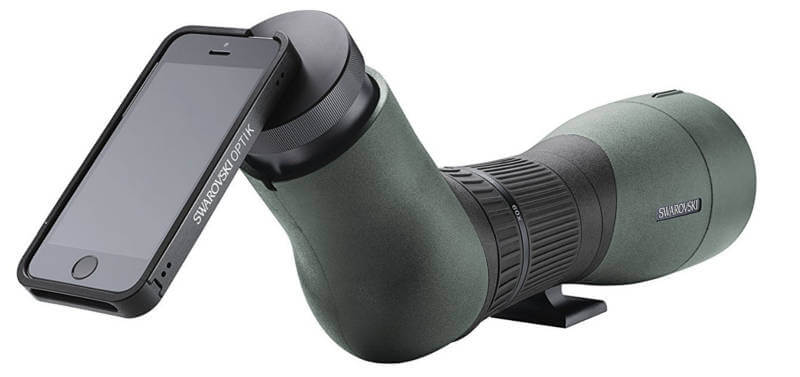 The choice of smartphone adapters for spotting scopes is wide. Numerous manufacturers offer similar designs that serve the same purpose. From universal adapters for spotting scopes and other devices to spotting scope-specific adapters, everything can be found.
In the following we provide a step by step overview of all options.
Universal smartphone adapter for spotting scopes and other devices
Smartphone adapters are suitable for spotting scopes, but can also be attached to other devices, such as telescopes or microscopes. An example adapter in this field is the all-rounder from Bresser.
The "Bresser Universal Smartphone Adapter" is comparatively easy to attach to the eyepiece socket of your spotting scope. With this and other adapters, you should pay particular attention to the specifications for the dimensions of the spotting scope and smartphone. Not every device is compatible.
For example, the Bresser Universal Smartphone Adapter requires an eyepiece diameter of maximum 68 mm while the smartphone used must be between 50 and 88 mm wide. In addition, caution is advised when handling, as the construction is comparatively fine-motored. Individual components could break if handled roughly and lead to a defect of the adapter.
There are many alternatives to the already mentioned universal smartphone adapter for spotting scopes.
Special smartphone adapters for specific manufacturers or spotting scopes
The manufacturers of spotting scopes offer matching smartphone adapters for their products. Mostly these special – and usually not compatible with spotting scopes of other manufacturers – devices are in the upper price ranges.
For example, Swarovski offers the "Smartphone Adapter PA-i6" at about 150.00 GBP.
Swarovski fans will not have a hard time with this and can expect the highest quality. However, it should be noted that the mentioned smartphone adapter cannot be used without an additional adapter ring. The fact that individual parts for the overall construction of the mobile phone adapter must be purchased separately makes the decision for such a solution difficult. Only the compensating argument of acquiring a truly coordinated variant stands against this.
Spotting scope and smartphone adapter (plus adapter ring) lead to high comfort in digiscoping in the long run.
Build your own smartphone adapter for spotting scopes
As an alternative to buying a smartphone adapter, you can also build the adapters yourself.
This requires a little manual skill, and you will not be able to do without purchasing special parts.
The different variants to build yourself are not described in detail here. A construction manual can be found in this video: Instructions for building a simple DIY smartphone adapter.
What to look for when buying a smartphone adapter for spotting scopes?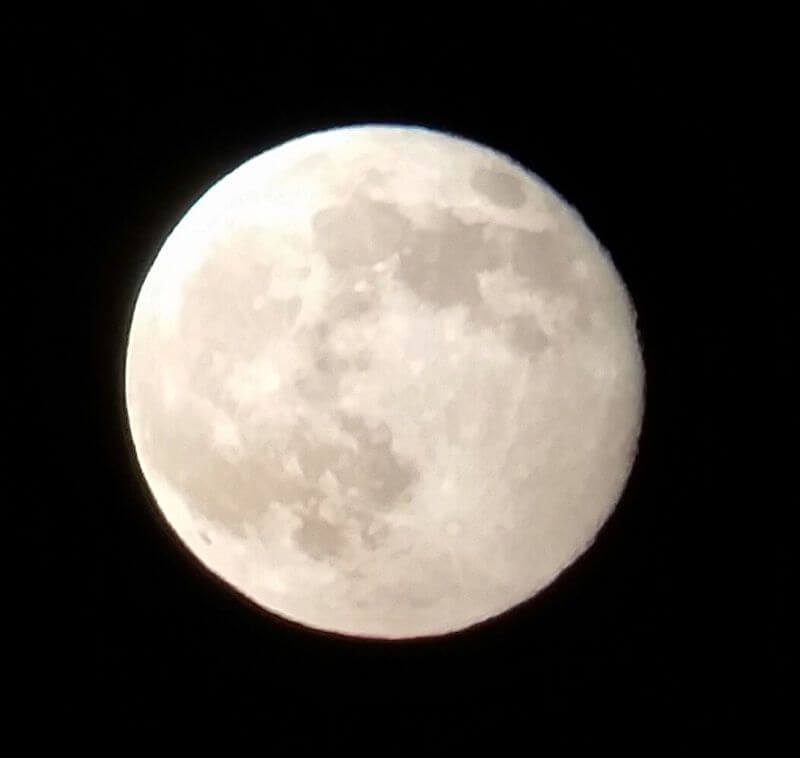 Since hands-free photography with the smartphone through the spotting scope hardly provides acceptable results, there is no way around a smartphone adapter for smartphone digiscoping. The following list should be checked by digiscoping users before buying a smartphone adapter:
Smartphone digiscopy vs digiscoping with compact camera or DSLR?
Digital zoom vs. optical zoom
Smartphone camera resolution
Smartphone adapters – custom-fit or universal?
Phone specific smartphone adapters for spotting scopes?
Options for connecting the adapter to the spotting scope
Let's look into more details.
Smartphone adapter versus adapter for compact cameras / DSLR cameras
Those who have already decided in favor of digiscoping with a smartphone no longer need to address this question. Those who are undecided can ask themselves once again whether the images of a smartphone meet their requirements. As an alternative it might be worthwhile to purchase equipment for connecting compact cameras or a possibly existing single-lens reflex camera (DSLR).
A big advantage of smartphones and compact cameras over digiscoping with a DSLR is that autofocus is available. This makes clear focusing of the observed object a breeze. In many DSLR variants, the autofocus of the camera is not compatible with the spotting scope, because the spotting scope is not recognized as a lens. Furthermore, an optical zoom is possible in good compact cameras, so that the image quality does not suffer when adjusting the round eyepiece view of the spotting scope to the square format of the camera.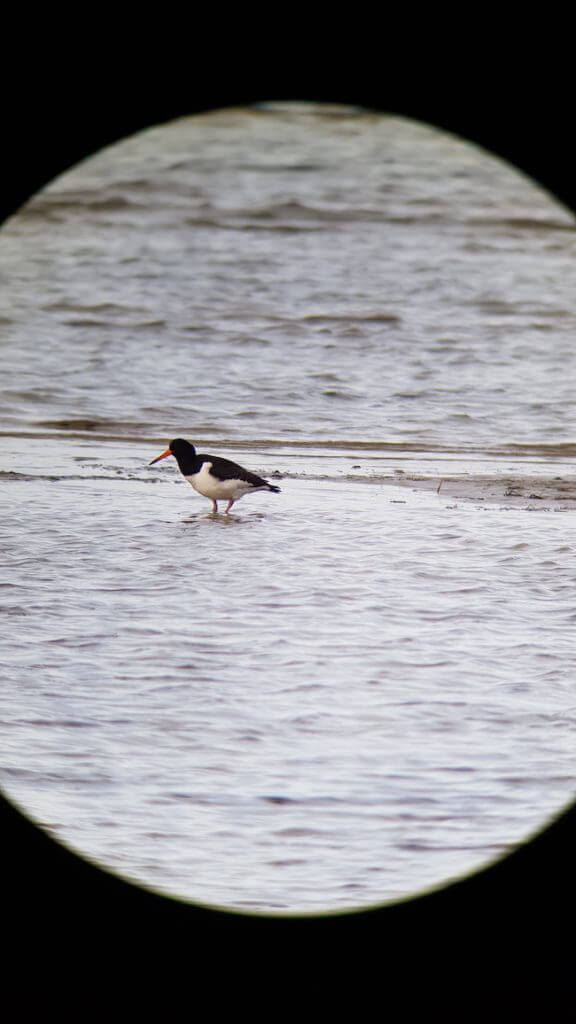 The image section in the smartphone
When you look through the spotting scope, you usually see a round section of the image. However, photographs from your smartphone appear rectangular.
How do you get square photographs with a round magnification (spotting scope)? Taking round photos with black corners is not necessarily mainstream.
Smartphones usually have a digital zoom (some even have an optical zoom) which is used for digiscoping (sometimes called "phonography" by the way).
Make sure that the smartphone you intend to use for digiscoping has a digital zoom function that allows you to zoom in on the eyepiece of the spotting scope. This allows you to "zoom in" on a square section within the round image section.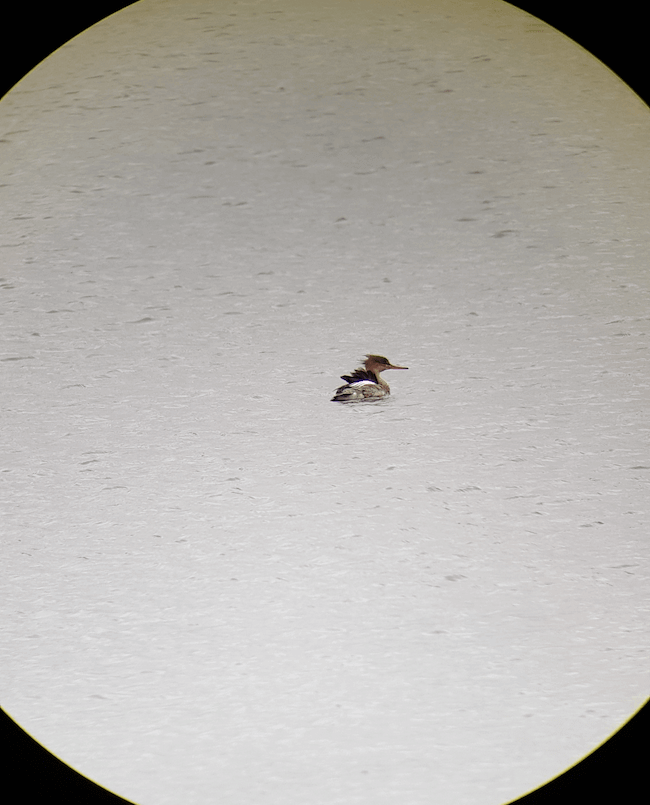 Resolution of the camera on the smartphone
Regardless of the adapter, you should make sure that your smartphone has sufficient resolution.
If you use the digital zoom, as described, the image quality suffers. Ideally, you can digiscope through the spotting scope with your smartphone and adapter at 1.5x or maximum 2x magnification. At double magnification, however, you already lose half of the available image points (pixels).
The less you must zoom, the more valuable the result of your photos.
Custom-fit smartphone adapter or universal adapter?
The advantages of the custom-fit adapters have already been described above. It is usually the variant to be preferred, since the superstructures turn out lighter, work more stable and the user usually may expect less hassle.
Universal adapters are usually more complicated in handling and more complicated in construction. This is due to the demand to meet the different requirements of spotting scopes and eyepieces.
The stability and weight of universal adapters also tend to speak in favor of using a custom-fit adapter solution for your spotting scope.
The development of new adapters for digiscoping is not standing still either. A promising adapter for digiscoping with a mobile phone is this solution from the manufacturer "Phonecam":
Phone specific smartphone adapter
In general, it is not advisable to buy phone-specific smartphone adapters. Although the adapters can be used with a wide variety of scopes, smartphone life cycles are comparatively short. Apple and Samsung release at least one new model of their flagship series every year and after a few years there are compatibility problems with the software.
If you want to digiscope through the spotting scope with your smartphone in the long term, you should also look for a solution for the adapter that is not bound to the development cycles of smartphones.
Possibilities for adapter connection to the spotting scope
More and more spotting scope manufacturers make it possible to meet the increasing enthusiasm for digiscoping by installing connection points for adapters or adapter rings on the spotting scope. Often the thread for so-called "T2" adapters is used here. It can also be used for smartphone adapters on the spotting scope. Carefully check whether there is a T2 connection under the rubber coating on the eyepiece of your spotting scope.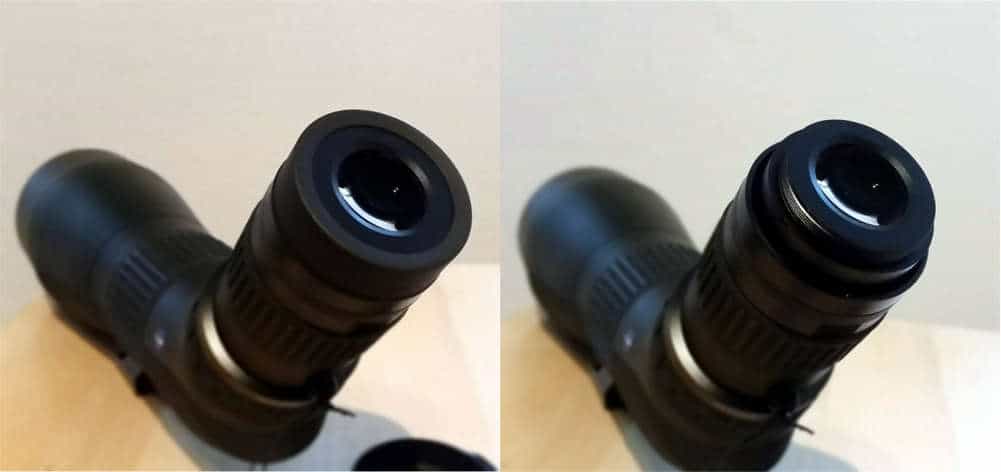 Smartphone adapter for spotting scopes of the "universal" type
The following list shows different variants of universal smartphone adapters, sorted in descending order from highest to lowest price.
Smartphone adapter for spotting scopes of the "exact fit" type
In addition to the universal smartphone adapters, you will find an overview of spotting scope-specific adapters below.
Mounting of smartphone adapter on spotting scope
The following (promotional) video from Focus Nordic demonstrates one of the ways in which a smartphone can be mounted on a spotting scope using an adapter before being used for digiscoping.
Price-Overview of Smartphone-Adapters for Spotting Scopes
The following list of various types of smartphone adapters serves as a price overview. You will notice, that Kowa offers many phone-specific adapters for about £90.
*All external links are part of the Optics-Pro or Amazon affiliate program. The indicated prices are subject to market fluctuations.