Omegon spotting scopes have only existed on the market since 2007, making them one of the newcomers compared to traditional houses like Swarovski or Kowa. Nimax GmbH (previously "Schwarz Internet Solutions GbR") founded the Omegon brand in 2007 and has been selling spotting scopes manufactured all over the world ever since.
Production and product range of Omegon
Besides Germany, Portugal and the USA, production also takes place in China and Taiwan. In addition to spotting scopes, Omegon's product range also includes telescopes, telescope accessories, binoculars, microscopes and tripods.
In the production of optical devices, spotting scopes – as with most other manufacturers – are only one component. Nevertheless, the company Nimax is constantly developing new devices that are oriented towards the needs of nature observers. The still young brand offers a comprehensive range of spotting scopes for sale. At the same time, interested customers can purchase matching tripods and tripod heads.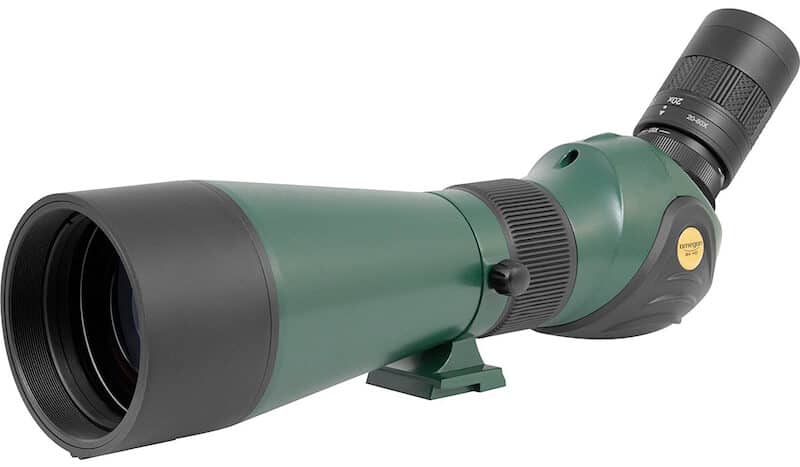 Prices of Omegon spotting scopes
Spotting scopes from Omegon are priced in the middle to lower price category. The most expensive devices cost around 1,000.00 GBP. At the upper end is the "OmegonZoom Spotting ScopeSpektivED 20-60×84 mm HD", while the lower price category ends at about 130.00 GBP with the Omegon Zoom Spotting Scope 20-60×60 mm. Priced roughly between these two devices is the Omegon SpektivED 15-45×60 mm Omegon spotting scope.ED 15-45×60 It costs approx. 400.00 GBP.
Interesting is that Omegon has beside the classic spotting scopes, for use with the tripod, also a handheld spotting scope in the portfolio. For only about 160.00 GBP, the Omegon spotting scope Handyscope 10-20×30 mm is sold. Especially for sports shooters or hunters, this handy spotting scope should be interesting.
Quality of Omegon spotting scopes
The price range mentioned above already indicates that Omegon spotting scopes are particularly suitable for beginners or ambitious hobby observers. While the quality of the spotting scopes in the lower price segment (below 200.00 GBP) should be sufficient for sport shooters, devices in the upper price category allow nature observers to achieve ambitious goals.
Let's take a closer look.
The current top product from Omegon is the "Omegon ED 20-60×84 mm HD zoom spotting scope". The technical data of the device reads convincing in the price-performance ratio: Lenses with "Extra Low Dispersion" (ED / low light refraction), multi-coated lenses with a front lens diameter of 84 mm and a zoom eyepiece that allows to bring objects up to 20 to 60 times magnification. Overall, this allows for clear high-contrast observations. Even at the edge of the field of view there is no distortion worth mentioning due to the high-quality produced and colorfast lenses.
The device is splashproof and comes with a retractable lens hood. At 60x magnification, the field of view at 1,000 meters is still 19 meters. At the lowest zoom level, it is about 34 meters at the same distance. Objects closer than 6 meters to the device cannot be observed (close focus limit).
Both nature observers as well as hunters and sport shooters get their money's worth with this device. However, limitations are to be expected for ambitious birdwatchers. The strength of the lenses allows lower quality when observing birds at long distances. Also, in the morning or evening twilight, the device has faster limits than, for example, the top devices from Zeiss or Swarovski. However, you also pay about 2,000 GBP less for this device.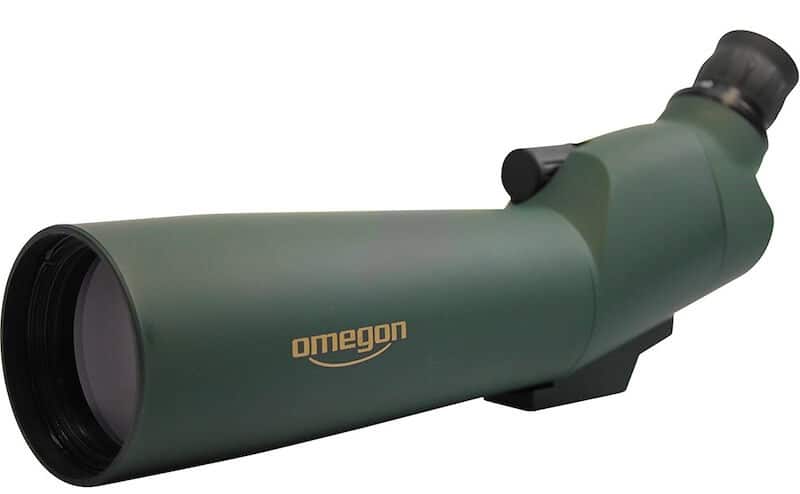 Omegon spotting scopes in the price overview
* The links given are references within the framework of the Optics-Pro partner program. Prices are subject to the usual market fluctuations